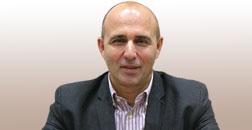 Dear visitors,
It is with great pleasure that I welcome you to the official website of the Municipality of Leros island. Our fundamental aim is to provide you, our guest, with a brief presentation, of our island, to give you a clear picture of what our island has to offer, along with useful information as to the service provided. We, the varius municipal institutions, believe that Leros.gr will be looked upon as a cordial invitation to you, to enjoy our traditional hospitality, admire the exceptional natural beauty and discover the rich culture of our homeland.
As you may know, Tourism, a characteristic phenomenon of modern culture, has discovered Leros over the past few years as an excellent destination. The improvement of Leros' image is a priority that stems from the new tourist planning policy of the Municipality of Leros island. Also, this positive progress comes as a result of incessant, fair and functional investment in economic activity.
Over the past few years, Leros has progressively revealed its own attractions and gained its first enthusiastic friends.
Today, Leros has become one of the Tourist destinations in Greece, but also in Europe, for those who are willing to take the time, travelling away from crowded tourist destinations, but without the same natural beauty. Leros has managed to be competitive with its own unique recognizable, but exceptional style.
Read More